What about Microsoft Component Extensions for C++?
After my previous blog entry about the support of Objective-C, you could get the impression that we're fully focused on Unix-like platforms and have completely forgotten about Windows. But that would be a wrong impression
– with version 3.2 of the C / C++ / Objective-C plugin released in November, 2014, support for the Microsoft Component Extensions for Runtime Platforms arrived in answer to customer needs. The C-Family development team closely follows discussions in the mailing list for customer support, so don't hesitate to speak about your needs and problems.

So what does "support of Microsoft Component Extensions for Runtime Platform" mean? It means that the plugin is now able to analyze two more C++ dialects: C++/CLI and C++/CX. C++/CLI extends the ISO C++ standard, allowing programming for a managed execution environment on the .NET platform (Common Language Runtime). C++/CX borrows syntax from C++/CLI, but targets the Windows Runtime (WinRT) and native code instead, allowing programming of Windows Store apps and components that compile to native code. Also could be noted there is not much static analyzers capable to analyze those dialects.

So now the full list of supported C++ dialects looks quite impressive - you can see it in the configuration page: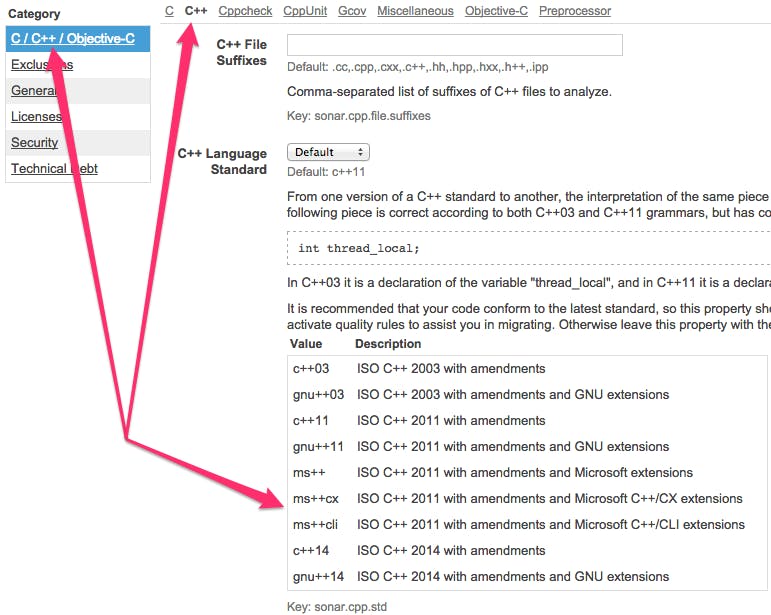 And this is doesn't even count the C and Objective-C languages!

You also may notice from the screenshot above, that now there is clear separation between the ISO standards, the usual Microsoft extensions for C/C++ (which historically come from Microsoft Visual Studio compiler), and GNU extensions (which historically come from GCC compiler). The primary reason for the separation is that some of these extensions conflict with each other, as an example - the Microsoft-specific "__uptr" modifier is used as an identifier in the GNU C Library. To ease configuration, the plugin option names closely resemble the configuration options of GCC, Clang and many other compilers.

But wait, you actually don't need to specify the configuration manually, because you can use the build-wrapper for Microsoft Visual Studio projects just like you can with non-Visual Studio projects. Just download "build-wrapper" and use it as a prefix to the build command for your Microsoft Visual Studio project. As an example:

build-wrapper --out-dir [output directory] msbuild /t:rebuild

and just add a single property to configuration of analysis:

sonar.cfamily.build-wrapper-output=[output directory]

The build wrapper will eavesdrop on the build to gather configuration data, and during analysis the plugin will use the collected configuration without the headaches of manual intervention. Moreover, this works perfectly for projects that have mixed subcomponents written with different dialects.

So all this means that from now you can easily add projects written using C++/CLI and C++/CX into your portfolio of projects regularly analysed by SonarQube.

Of course, it's important that the growth of supported dialects is balanced with other improvements, and that's certainly the case in this version: we made several improvements, added few rules and fixed 28 bugs. And we're planning to go even further in the next version. Of course, as usual there will be new rules, and improvements, but we'll also be adding a major new feature which will make analysis vastly more powerful, so stay tuned.

In the meantime, the improvements in version 3.2 are compatible with all SonarQube versions from 3.7.4 forward, and they're worth adopting today.