Suggest a Valuable Rule, Win a SonarQubeT-Shirt
Is there a rule you'd like to turn on in SonarQube, but you just can't find it? Well, wish no more, just tweet your missing rule and if its valuable, we'll implement it.

With coverage of more than 15 languages, developing our own source code analyzers to deliver the most valuable coding rules and bug detection mechanisms is a key mission at SonarSource. In the past, we've mainly worked to offer better covererage of rules offered by other rule engines like JSLint, PMD, Toad, CodeSniffer, PHPPMD, CPPCheck, and so on. But the time has come to fly, and now we'd like to know what rules you're dreaming about.
How to participate

To participate, just tweet the title of your rule and a link to a short description using the tags #1rule1tshirt. If we like it:

We'll add this rule to our Rule Repository, the well from which all new SonarSource rules are drawn.
We'll send you a SonarSource t-shirt.
And obviously we'll do our best to implement this rule and make it available quickly.


That's it !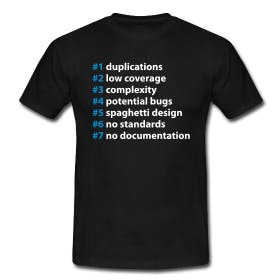 Really want few additional details ?
The rule can target any language currently covered by SonarSource: Java, C/C++, JavaScript, C#, COBOL, Objective-C, Python, PL/SQL, PHP, ABAP, Android, Flex, Groovy, HTML, PL/I, RPG, VB.Net, XML.
You can use whatever's convenient to host the rule description, such as a Google doc to provide a short description of the rule.
The goal of the rule can be either to reinforce a coding practice or to detect some bugs.


Whether or not a rule is valuable is subjective. Like any benevolent dictator, ours will be the final word. :)

Let the tweeting begin!