SonarQube 5.0 in Screenshots
The team is proud to announce the release of SonarQube 5.0, which includes many new features

Issues page redesign
Keyboard shortcuts added to Issues
Built-in SCM support
Issues page redesign

With this version of the SonarQube platform, the Issues page has had a complete overhaul.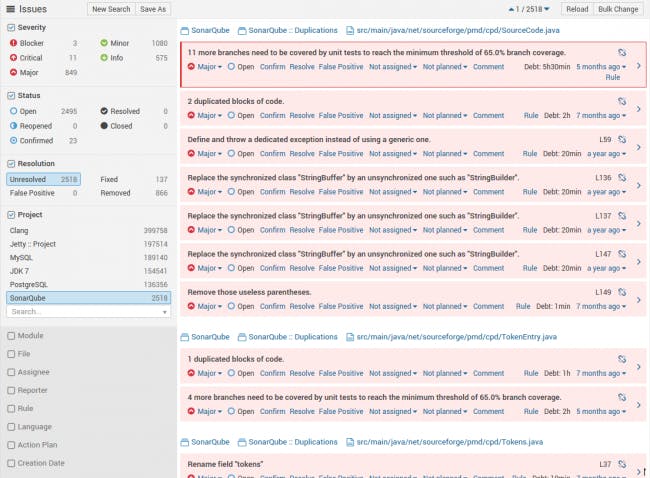 Issues are grouped in the list by file, and from the list of issues, you can easily navigate to the issue in the context of the code, as you're used to seeing it,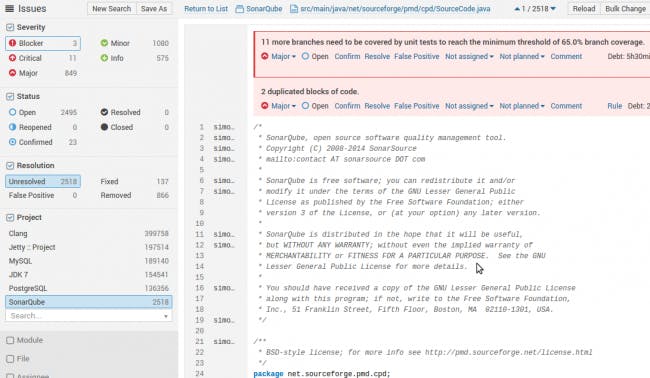 Issue search has also been overhauled. You can still choose from criteria, but now next to each facet of the criteria, you see a count of the relevant issues.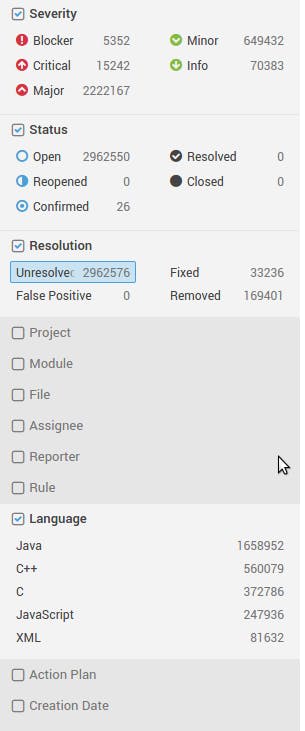 Selected facets are highlighted in blue, and selecting/deselecting a facet immediately (okay, there's a quick trip to the server and back) updates your search results and the issue counts next to all the other facets.


Keyboard shortcuts added to Issues

The intent behind the redesign is to allow you to use the Issues page quickly and efficiently to manage issues on a daily basis. To that end, extensive effort has gone into providing a broad set of keyboard short cuts. '?' brings up the list, and Esc closes it.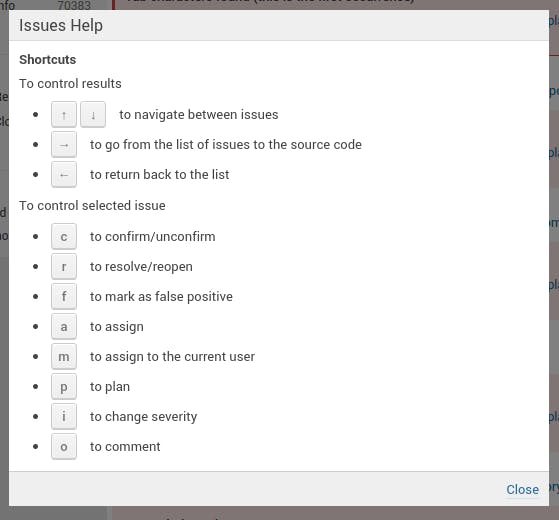 From the list of issues, right-arrow takes you to the issue-in-context, and left-arrow takes you back to the list. In either context, up-arrow/down-arrow takes you to the next issue - in the same file or the next one - and you can use the shortcuts to comment, assign...



Built-in SCM support

SCM "blame" information has been an important data point in the SonarQube interface for a long time, but until now a plugin was required to use it. Now SCM data comes as part of the platform, with built-in support for SVN and Git.





Speaking of Git, its rise in popularity has meant that the use of '/' in branch names has become increasingly common. Until now, that was unsupported by SonarQube. That changes with 5.0, presumably making many Git-ers happy. :-)


That's all, Folks!

Time now to download the new version and try it out. But don't forget that you'll need Java 7 to run this version of the platform (you can still analyse Java 6 code), and don't forget to read the installation or upgrade guide.