SonarQube 4.5 in Screenshots
The team is proud to announce the release of SonarQube 4.5, which includes many new features:

Computation of the SQALE Rating and the Technical Debt Ratio
Improvement to the Rules pages
Redesign of the Treemap
Computation of the SQALE Rating and Technical Debt ratio

With this version of the SonarQube platform, the SQALE Rating (letter grade) and Technical Debt Ratio move from the SQALE plugin into core. Now there's an easy index for project comparison, and an easy way to see it too, the new "Technical Debt Synopsis" widget:



Improvement the the Rules pages

This version of the platform brings several improvements to the Rules space.

The first is the addition of a new Active Severity feature, which lets you search for rules by the severities they have in a given profile (rather than by default severity):





This version also makes the rule's SQALE/Technical Debt remediation function visible. I.e. you can see now how much violating a rule will "cost" you in terms of technical debt. Just click on the SQALE characteristic to see it:




The ability to create new manual rules has also been added to the Rules space. Since markdown is now supported in rule descriptions, you can use it to add some formatting to manual rules: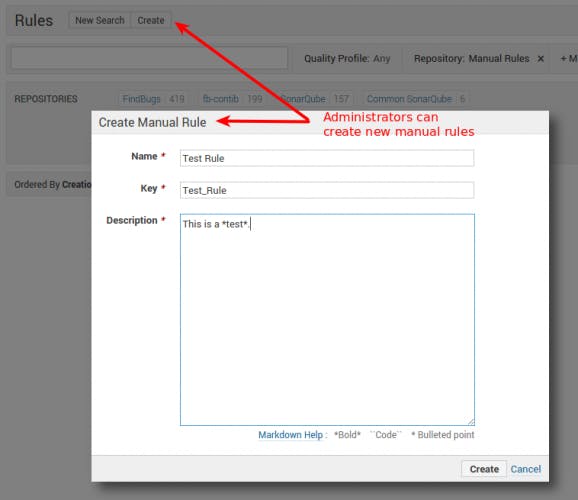 Once created, you'll find them in the "Manual Rules" repository: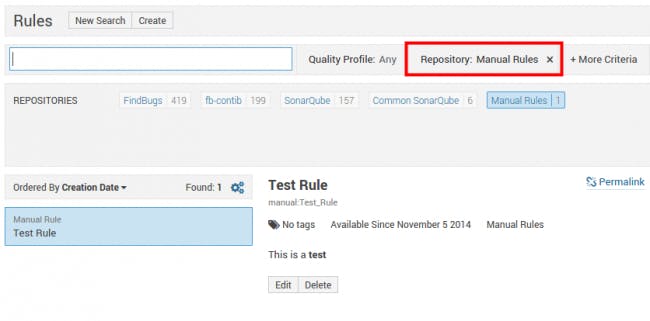 Redesign of the Treemap

The treemap, one of the earliest visualizations of code in SonarQube got a complete overhaul in this version. Rewritten in JavaScript, you should find it more responsive, more intuitive, and just as beautiful as ever. Among the changes are a better mouseover, and a clickable breadcrumb trail at the bottom for zooming out: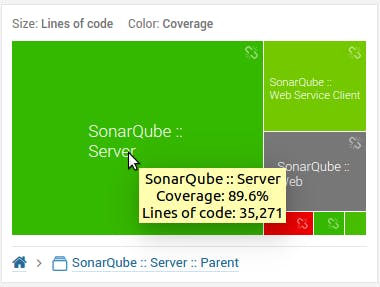 That's all, Folks!

Time now to download the new version and try it out. But don't forget to read the installation or upgrade guide.