Know where your project stands with the new project overview!
In late April, I introduced the new project experience for SonarCloud, which has already been adopted by a lot of you. Today, we're adding a brand new project overview page! We can't wait for you to try it! Let's discover what's inside in this blog.
Your project status & activity all in one place!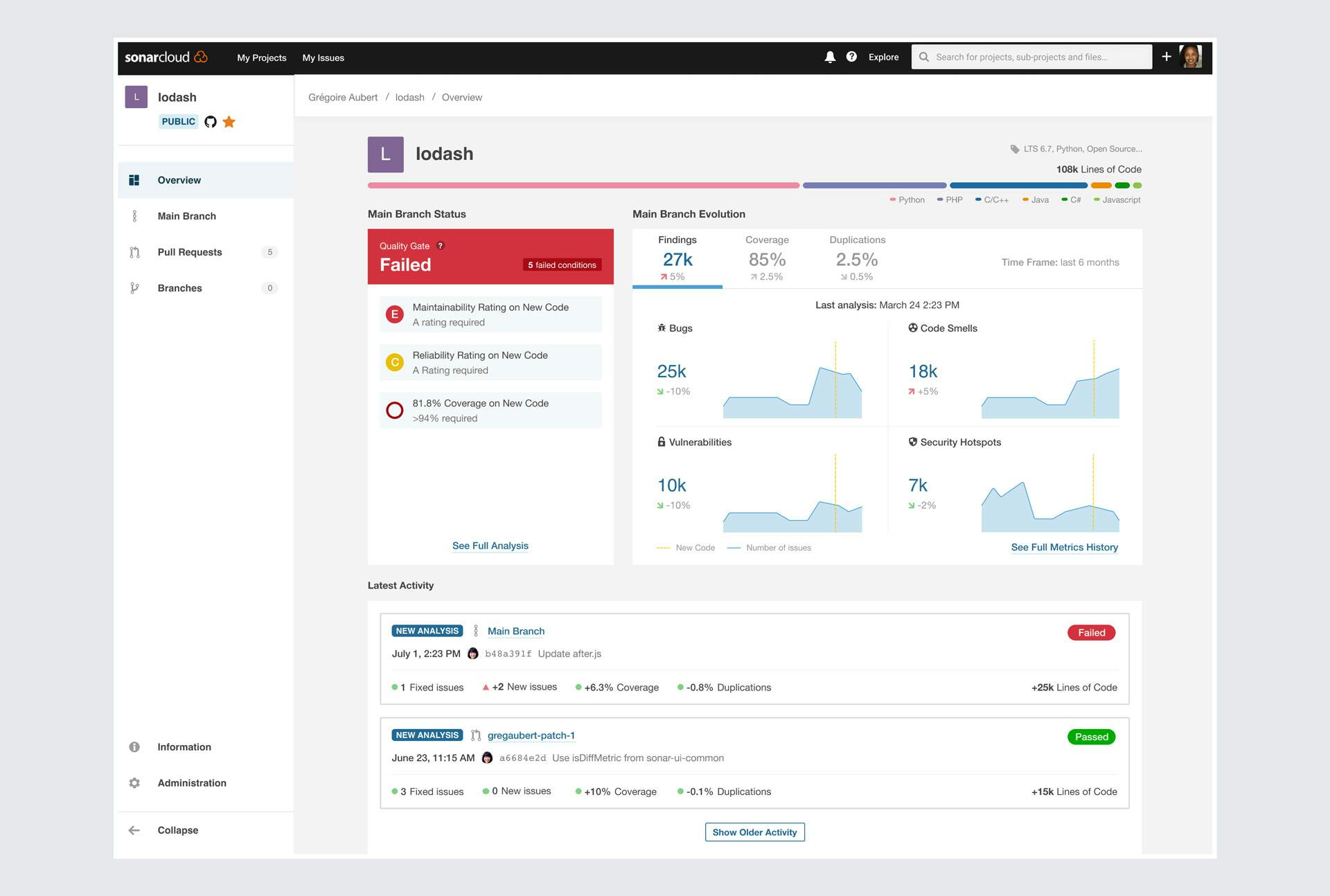 An effective strategy on Code Quality & Code Security starts with a good level of awareness. Knowing where your project stands is crucial! And so is understanding where a possible problem comes from. This is exactly what we bring to you with this new overview page. It's a complete dashboard where you'll have everything you need to know about your project. In one look, you'll be able to assess the health of your project, explore its latest activity, and eventually take actions from there.
Project information with language distribution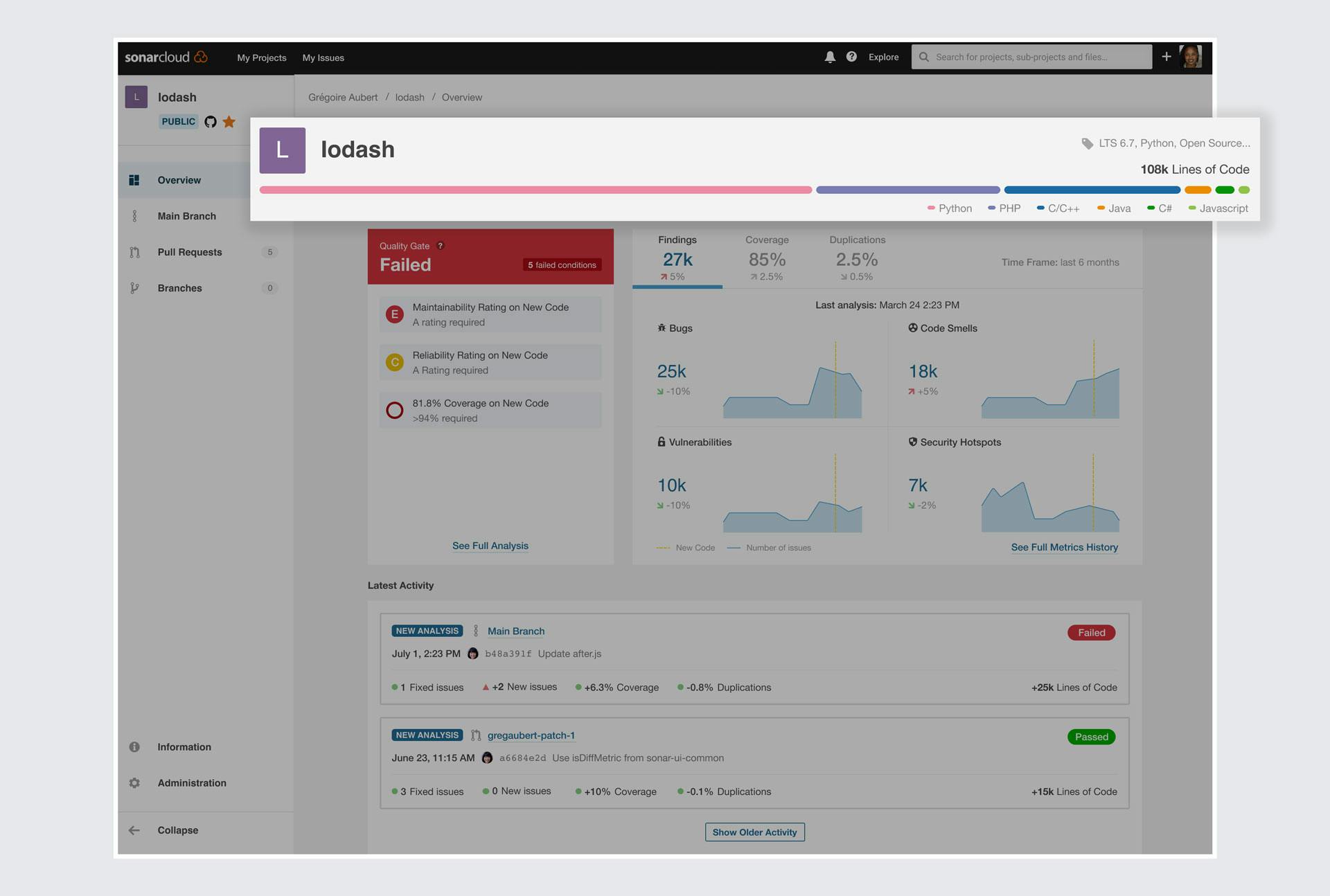 This new project overview begins with clear project information. Of course, you'll find the project's name and description, but also project tags, number of lines of code and languages distribution. With this last one, anybody in the team can now visualize what languages a project is composed of.
Main branch status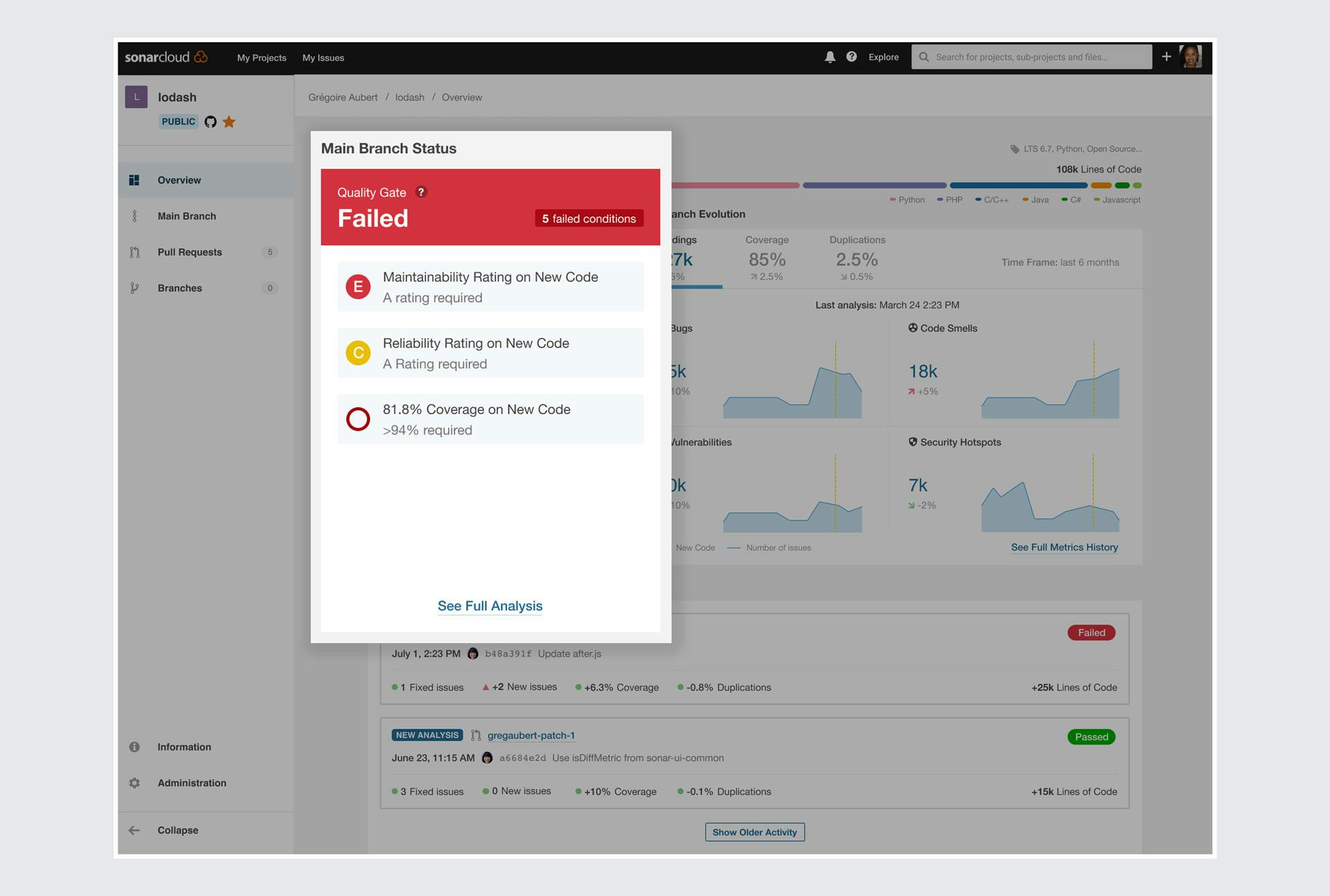 This project overview page highlights the main branch in two central pieces: the Main Branch Status, and the Main Branch Evolution. Simply because good Code Quality & Code Security of the main branch means that the project can be released confidently. 
In the Main Branch Status section (on the left), you'll find the Quality Gate status as well as the number and list of failed conditions, in the event of a failed Quality Gate. If you're asking yourselves the question 'Can the project be released now?', take a look at this! If it's green, you're good to go, and if it's red, you have all the information you need to understand how to make it green.
Main Branch Evolution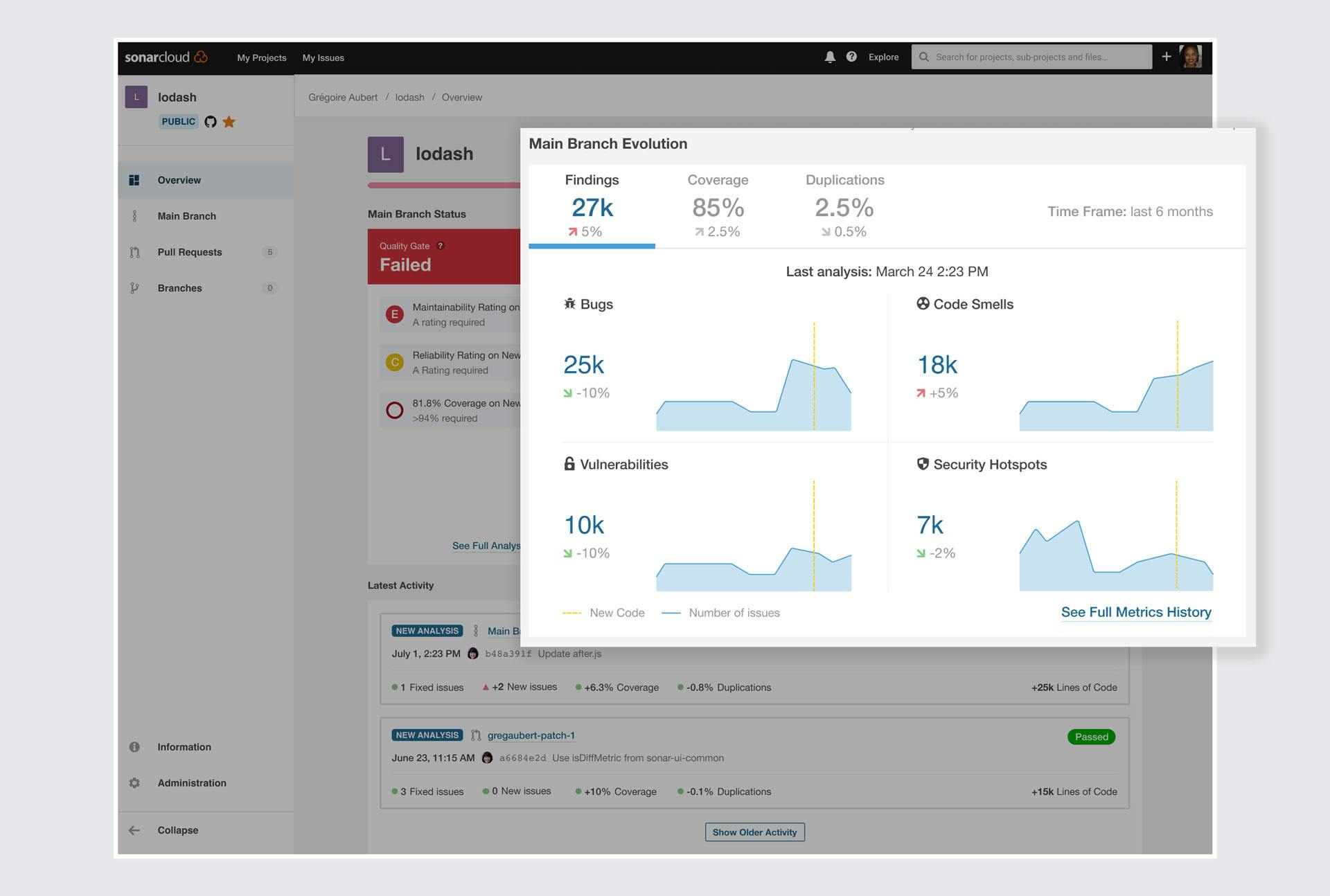 In the 'Main Branch Evolution' section (on the right), you'll be able to dive deeper in the issues, coverage, or duplications in your code with the following information:
The actual number of issues (Bugs, Code Smells, Vulnerabilities, Security Hotspots), number of LoC covered by tests, or number of duplicated LoCs.
The trend over the timeframe.
An interactive chart where you can explore the evolution of metrics over time on mouseover.
Latest activity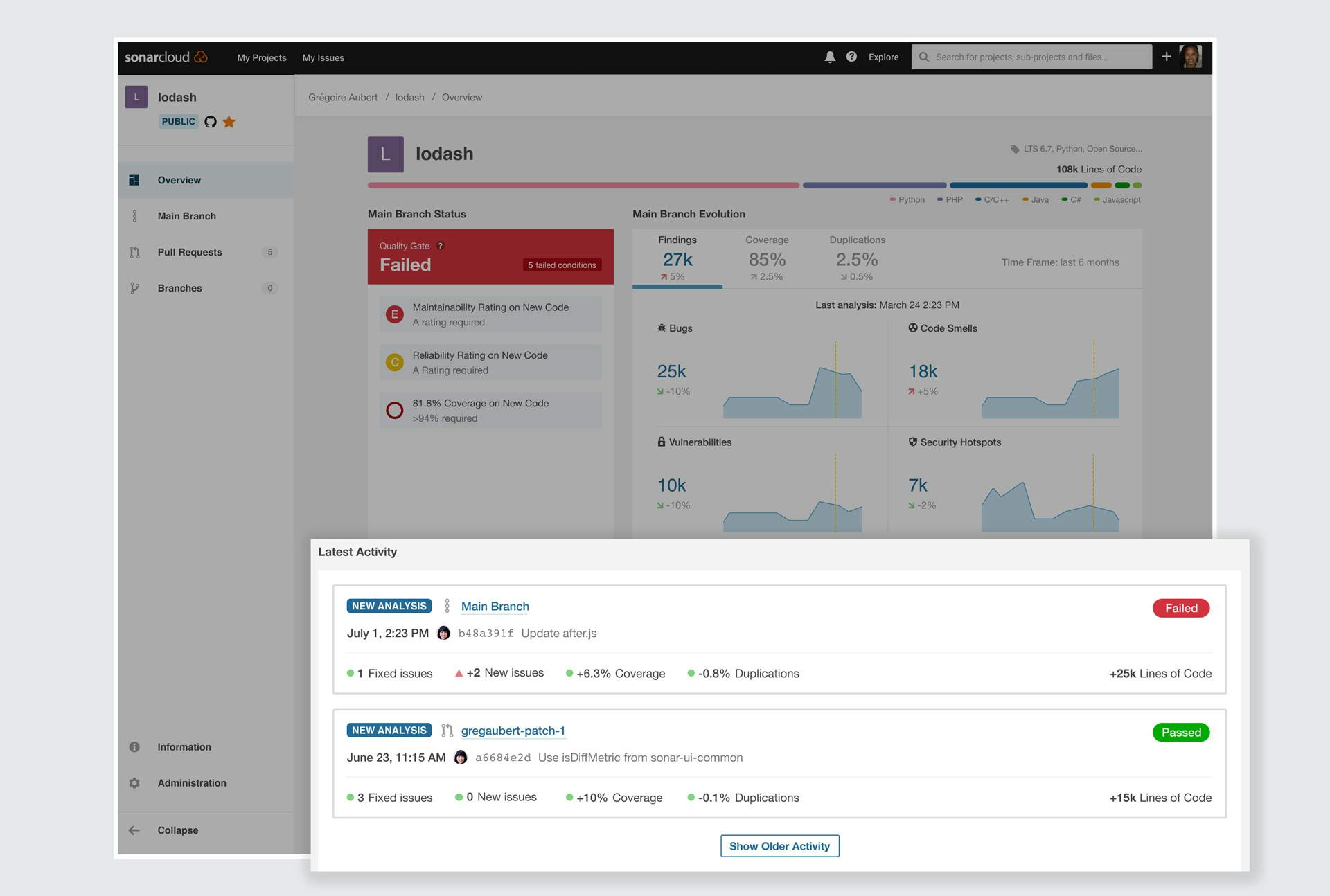 As a first step on Latest activity, we're bringing pull request & branch analysis updates to the knowledge of your team. There will be more activity to be added in this section in the future. Stay tuned!
Give it a try, subscribe to the beta!
Haven't activate the new project experience yet? Wait no more! The beta program is open to all users, no matter if you have a free or paid account. All you have to do is to:
Go to SonarCloud.io and log in
Click on your profile picture at the top-right,
Then click on 'Activate beta features' and a pop-up will appear.
Click on the 'Activate this feature' toggle switch and you'll see SonarCloud change skin instantly!
From there, you'll be able to check the health of any project with this new Project overview page. We welcome feedback! Anything you want to share with us? Please use the feedback form at the bottom right of your screen.
Interested in knowing what's coming next?! Check SonarCloud's public roadmap here and see every feature that's under consideration, coming soon, or already released. You can even submit ideas if you have something you want to see added to SonarCloud in the future.