SonarCloud's facelift step 1: a more modern and consistent UI is born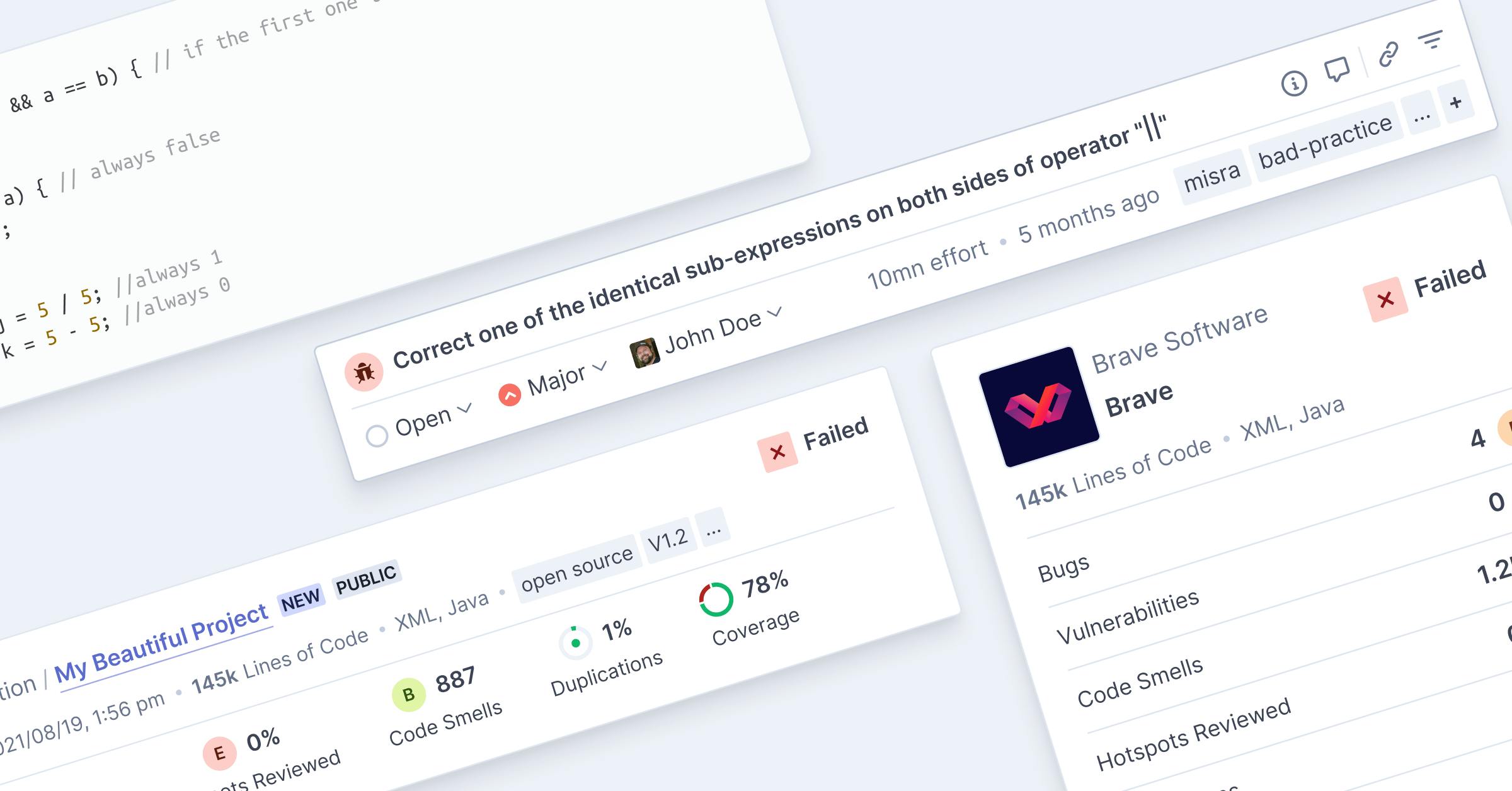 Today, we're releasing the first of a number of updates to the SonarCloud user interface. A more modern, consistent and accessible UI is what this is all about.
If you're a SonarCloud user, you might not recognize the product you know instantly as we've applied a lot of touch-ups to the user interface. But you'll quickly realize that this is still the same but different SonarCloud. We're just making the interface more appealing and comfortable for your eyes. If you're not a user, well, discovering the new interface might be a good reason for you to give SonarCloud a try.
Why revamp the user interface?
SonarCloud celebrated its 4th birthday this year. We've made tremendous progress since we made the decision to bring clean code analysis to the cloud. One thing has been consistent in our approach, staying ambitious with our product roadmap and getting there fast! Our developers have been hard at work from day 1 to keep bringing more top-notch Clean Code features to life. This is what has enabled SonarCloud to be positioned well in the market today.
In our mission to steadily deliver new features and functionality, we also had to make a few trade-offs. That was fine until today as we've reached an important point in the product life where we need to turn our attention to the user interface. Our objective is simple: provide a more unified product experience.
In the past, if you looked at the SonarCloud user interface, you might see very disparate visual components with different shapes, colors, fonts... In some cases, this fragmentation was creating a feeling of a complex UI. A quick example we could mention is the tab component of which we have no less than 5 different versions inside the product. We want to rationalize and consolidate all of this with this new UI. Also if we're totally honest, we all felt like the former SonarCloud UI belonged to the last decade. So we decided to give it a little refresh!
What is released today?
With this new release, you can expect a lot of improvements in the user interface. New shapes, new colors, new fonts, consolidated layouts and components... We have touched up multiple parts of the UI encompassing many areas of the appliation. The improvement list is too extensive to list here so you're invited to open SonarCloud and discover it for yourself.
In short, here are the main modifications:
New set of fonts
Revamped color palette
Unified layouts
Modernized componentry
What is coming next?
As mentioned earlier in this blog, this is just the beginning. This release is the first step of a longer journey that brings a fresh look and feel to SonarCloud.
Stay tuned as more improvements are coming in the near future, such as: 
Compliance with Web Content Accessibility Guidelines (WCAG AA)
A new version of the issue page with additional educational features
And a dark mode, how cool is that?!
Accessibility is a very important topic for us. We want our solution to be used and loved by all. We're going to explain what we're achieving and how in a second blog post. For the release of the dark mode, we're targeting that functionality to be delivered at the end of the year if all the pieces fall nicely into place.
Stay tuned and share feedback
We hope these improvements will make your experience in the product even better and eventually make your job easier when cleaning your code. Stay tuned for more on this topic! You know the drill, after giving this new user interface a try, please share your feedback on our community forum.
Pick a topic to discover more