My Consulting Journey at SonarSource
I've been part of SonarSource for a little over a year now. I had done "consulting" for most of the decade prior, but it's a word that means many things depending on the company and industry context. As I engaged with SonarSource through the recruiting and hiring process, I learned that this was both a unique company and a unique take on the idea of "consulting". Instead of working for a services-based organization where my work was the product, at SonarSource I work for a product-based company where services are ancillary, yet still vital to our customers' success.
The U.S. Consulting team covers North/South America, whereas our European colleagues cover the remainder of the world. We collaborate as a united team on most matters and are fully immersed in the culture of our main office in Geneva, Switzerland.
Pre-sales
Part of my role involves what would often be called pre-sales support or sales engineering. Members of my team engage with customers that are perhaps just starting their journey into managing organizational awareness of Code Quality and Security. Others are interested in moving from SonarQube Community Edition to one of our commercial offerings and need to better understand feature use and integration prior to a license commitment. We perform demos for such customers, which also serve as opportunities for Q&A. Prospects are interested to learn how products like SonarQube and SonarLint fit into contemporary software development practices like Continuous Integration or DevSecOps. Some are curious how they dovetail with various flavors of agile development practices. My prior experience with agile coaching helps tremendously here. 
Fielding the kinds of questions that come up during these pre-sales engagements involves imagining the perspectives of people like:
Developers who want to understand what to do with our quality metrics
Tech leads and architects that want to understand how to set and manage quality standards
InfoSec experts who want to be sure teams are developing without violating known security concerns (like issues that fall into the OWASP top 10)
DevOps engineers with deployment and infrastructure management concerns
Managers and executives who want to govern for Code Quality and Security management
Dealing with questions from such a diverse audience takes experience and empathy with these positions, which is why my team hires people who've actually held these roles in the past.
You can't effectively participate in the process of selling development tools without understanding development! To that end, the Consulting team also builds example code projects to demonstrate code problems and showcase some of our features. I still get to write code and now I can have an awesomely fun time writing deliberately bad code.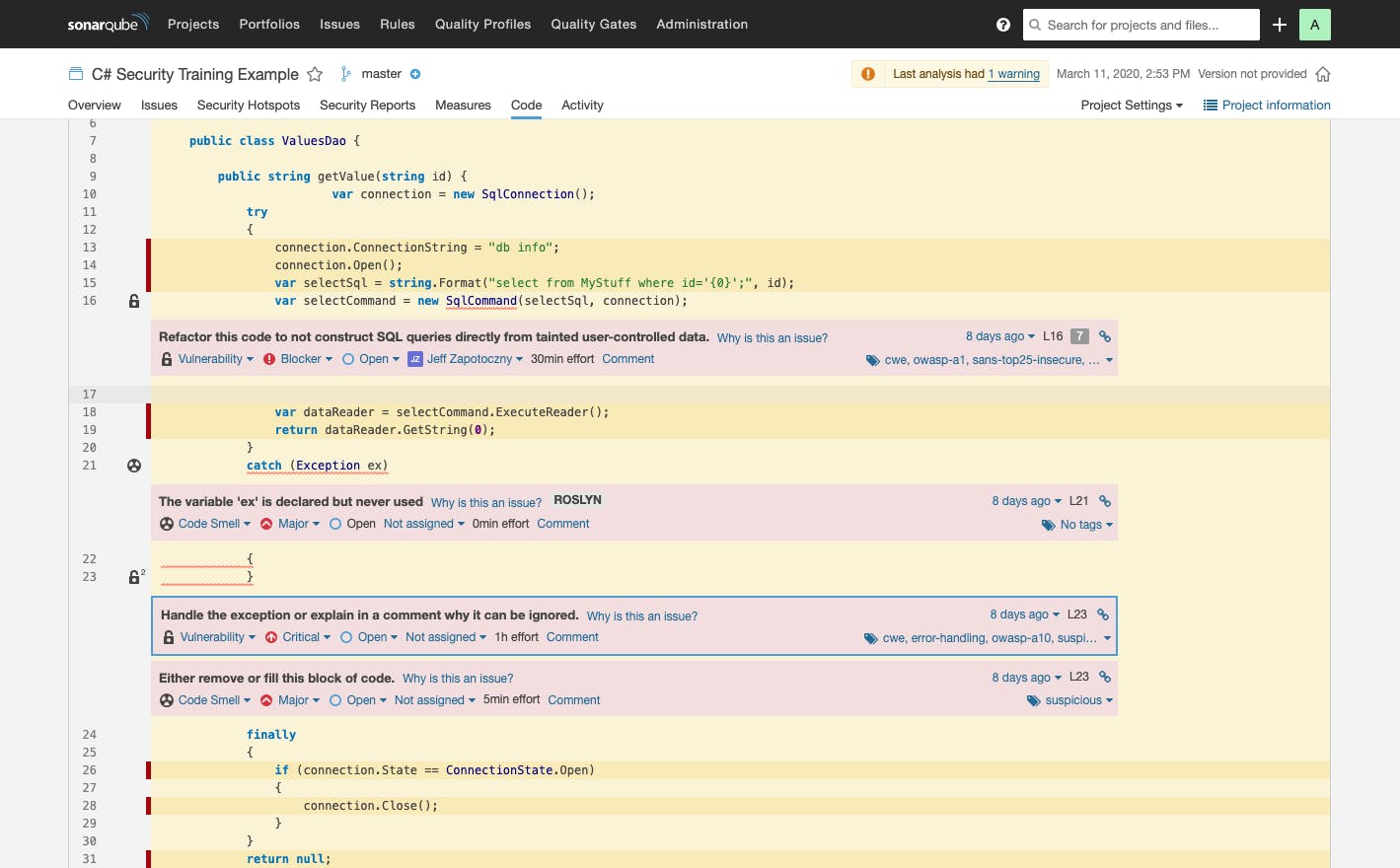 How to do everything wrong on the way to querying the DB...
Post-sales
Our journey with customers doesn't stop once they purchase. We engage with many of our enterprise customers to offer on-site and virtual training sessions. These training sessions can be vital to customer success. They also serve to develop our own sense of how customers are really putting our tools into use. You want to have confidence that you're developing a good tool for DevSecOps? Get in a room with a dozen engineers and discuss their pain points and how to overcome them!
The awareness we gain from training our customers translates directly into better support. Consultants work with members of the Support team (together we form the larger Services team) to provide deeper context into unique customer situations. We know when our customers will benefit from upgrades and which features might have more or less painful adoptions due to organization-specific constraints.
I'd be lying if I claimed customers never run into hairy problems or that they don't sometimes grow frustrated as a result of them. This too is part of the role: working with Sales and customers directly to maintain relationships that have grown strained due to an issue, while focusing on solving the problem at hand.
Culture
The feedback we receive from customers also turns into an opportunity to influence product development within SonarSource. Within the company, we communicate transparently with our development teams and product managers using a combination of internal discussion boards (good for async, time-zone disparate discussions) and live meetings when appropriate. Members of the Services team serve as emissaries to recurring meetings like product roadmap discussions and a cross-product council, where we bring the customer perspective and raise concerns if we think features would be hard to support.
Continuous Improvement is in the genome of every SonarSourcer, and it's not limited to improvement only of product development practices. Our products never stand still, and neither do the training materials we present to customers. The Consulting team has a cross-time-zone daily sync meeting where we compare notes across all our responsibility areas. We also have regular team-level retrospectives where we decide as a group what improvements can be made to things that haven't been quite working optimally. 
We're also in a unique position to bridge understanding between members of our Sales and Marketing teams and the technical realities facing prospects and users. This has led to the development of a series of "enablement" training sessions where members of the Consulting team present internally on topics as diverse as how teams might be structured within a bank, to diving into the details of Docker containers.
The Consulting role is exciting and challenging to me precisely because it requires being such a jack of all trades: teacher, coach, support engineer, developer, even at times bits of project and account manager. Having served in this role now for a year, I wouldn't have it any other way. I love doing what I do as part of a product-centric company with a strong and unique culture!
To see if SonarSource is hiring Consultants or any other role, please check our Jobs page.