Knowing Better Sonar Users
This is sometimes a bit frustrating, when you are contributing to an Open Source project, to have doubts about who your users are... really. Not knowing them might lead to not understand their needs and therefore not being close enough to deliver value.

Despite the fact that we are always ready to answer questions on the mailing lists, the Sonar team wanted to be sure it knows well enough its users and their experience using the platform. That is why we recently made two polls and today I would like to share their results :

General Figures
Where are you from ?
Switzerland
France
United States of America
Poland
Republic of Macedonia
Germany
Netherlands
Belgium
Spain
Latvia
Czech republic
Luxembourg
India
Canada
Russia
…
How many Projects use Sonar?
Less than 5 : 8 (20%)
Between 5 and 10 : 9 (22%)
Between 10 and 50 : 14 (34%)
More than 50 : 10 (24%)
Which is the average Size of your projects?
Less than 5,000 lines of code : 4 (10%)
Between 5,000 and 10,000 lines : 10 (24%)
Between 10,000 and 50,000 lines : 14 (34%)
More than 50,000 lines : 12 (29%)
How long have you been using Sonar?
More than 1 year : 9 (20%)
About 1 year : 18 (39%)
Less than 1 year : 19 (41%)
Which Sonar Version do you use?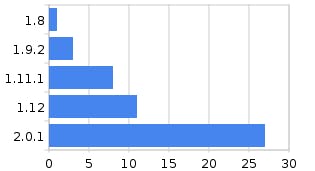 Maybe it's good time for you to follow the mass and download latest version right now? ;)
IDE Integration
As you probably know, we are working on some plugins for IDEs, which will help developers improve source code quality directly from their favorite development environment.
So, which is your favorite IDE?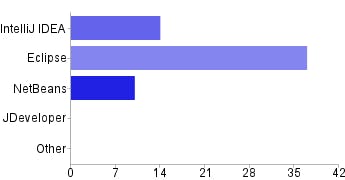 We're happy to know that your needs perfectly corresponds to our vision: integration of Sonar with Eclipse it's a must have part for Enterprise - we are now sure at 200%. So, our priorities: 1-Eclipse, 2-IntelliJ IDEA, 3-NetBeans.
Integration with Hudson
Thanks to Henri Gomez who's provided the following poll results about user experience in Sonar integration with Hudson:
Which kind of Hudson job do you use?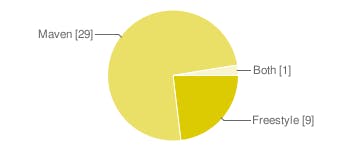 How do you trigger Sonar build?
Unconditionnal Nightly build : 18 (44%)
Specific Sonar build : 12 (29%)
Build on SCM update : 10 (24%)
Nightly build if SCM update : 8 (20%)
* People may select more than one checkbox, so percentages may add up to more than 100%.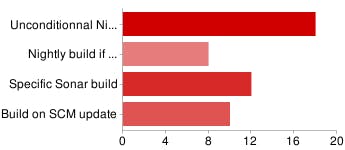 Which ratio of projects not built with Maven?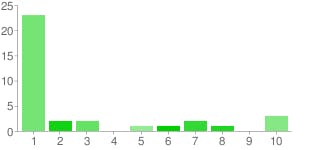 Sonar Plugins
And last but not least, is your opinion about the Plugins Forge and about the commercial plugins.
Which Sonar plugins do you use?
Technical Debt : 26 (51%)
Taglist : 24 (47%)
Timeline : 24 (47%)
Motion chart : 20 (39%)
Quality Index : 19 (37%)
Radiator : 17 (33%)
SIG Maintainability Model : 15 (29%)
PDF Report : 14 (27%)
SCM Activity : 14 (27%)
Artifact Size : 10 (20%)
Rules Meter : 11 (22%)
Security Rules : 11 (22%)
Build Stability : 10 (20%)
LDAP : 10 (20%)
JIRA Issues : 10 (20%)
Views : 7 (14%)
Other : 6 (12%)
Master Project : 4 (8%)
SonarJ : 3 (6%)
Identity : 3 (6%)
Emma : 2 (4%)
PL/SQL : 2 (4%)
Build Breaker : 1 (2%)
Crowd : 1 (2%)
* People may select more than one checkbox, so percentages may add up to more than 100%.

Thus the most useful plugin in the opinion of users is the Technical Debt Plugin. The LDAP plugin has the lowest Technical Debt Ratio of all plugins with 2.5%, so this is the plugin of the month from a code quality point of view.

The most sexy plugin is the Motion Chart Plugin.

The best plugin for meditation the Radiator Plugin.
Testimonials
We also gathered from the polls some testimonials from our users and I thought it would be interesting to share them:

© Nicolas De Loof 2009-2010 all rights reserved, France
Sonar is the Google Earth for source code.
Jamie Whitehouse, Toronto, Canada
Sonar is amazing, I don't know why anyone would want to sift through the separate tools reports and manually correlate information, nor miss out on the added features from Squid and dependency analysis (DSM).
Sébastien Touzet, France
Waiting for the Cobol plugin with great interest!
Anonymous
Just a heart felt "thank you" for moving the reporting out of Hudson and especially Bamboo and into a real reporting tool. Sonar has really helped with helping identify problems and to motivate change.
Anonymous
1 project has more than 200 000 lines of code Build on SCM update if Hudson build is successful. Congratulations sonar team !
Erik Bartholomeus, Belgium
We probably will stop using sonar because it is becoming crowded when there are too many projects.
We also asked about missing features in Sonar and received some good ideas that we are going to review. But feel free to create issues in JIRA to log new ideas. You can also start a new thread of discussion by submitting your ideas to the user mailing list.