From Community post to a new feature: a brief history of Mono-repository support in SonarCloud

This isn't just another typical, new feature marketing story in a tech company. " We are happy to announce that we just released the new feature F…". I am sure you know how it goes, right. This time, it's not really about the feature we released, but rather about the story behind it. Simply because this story has a little bit of something different, a little bit of something more… Today we're going to talk about how, as a user, you can contribute to SonarCloud.
With great community comes great input!
It all started a few months ago, with a message on our Community forum. One of our users wrote a post in the "Suggest new features" section of the forum. He explained a problem he was facing and requested the addition of a specific feature to resolve it. Indeed, this user is part of a team with only one single repository for all his projects. It means one back-end project, one front-end project, and many more, all in the same repo. Although all of these projects get analyzed with SonarCloud, they all use the same "generic" Quality Gate. It generates situations where two different development squads commit new code in the same pull request, but can only get one shared Quality Gate result, mixing apples and oranges. And this doesn't entirely do the job for our user. He would rather be able to configure a specific Quality Gate per project. He would also like to quickly understand which particular project the messages he receives from SonarCloud are about.
Week after week, we progressively saw more and more replies to this post on the forum. Everybody with the same configuration (one single repository) asking for the same feature. At some point, this feature was discussed by the Product Managers and added to the backlog. After a few months, the support for mono-repositories was added to SonarCloud for Azure DevOps Services and GitHub! So if you have repositories with multiple projects on one of these two ALMs, you can configure a Quality Gate per project. Also, you will see SonarCloud messages now mention the name of the specific project concerned. More information about how to configure your mono-repository is available in the documentation here. we'll let you discover this feature, and see how that works for you. We encourage you to share your feedback with us!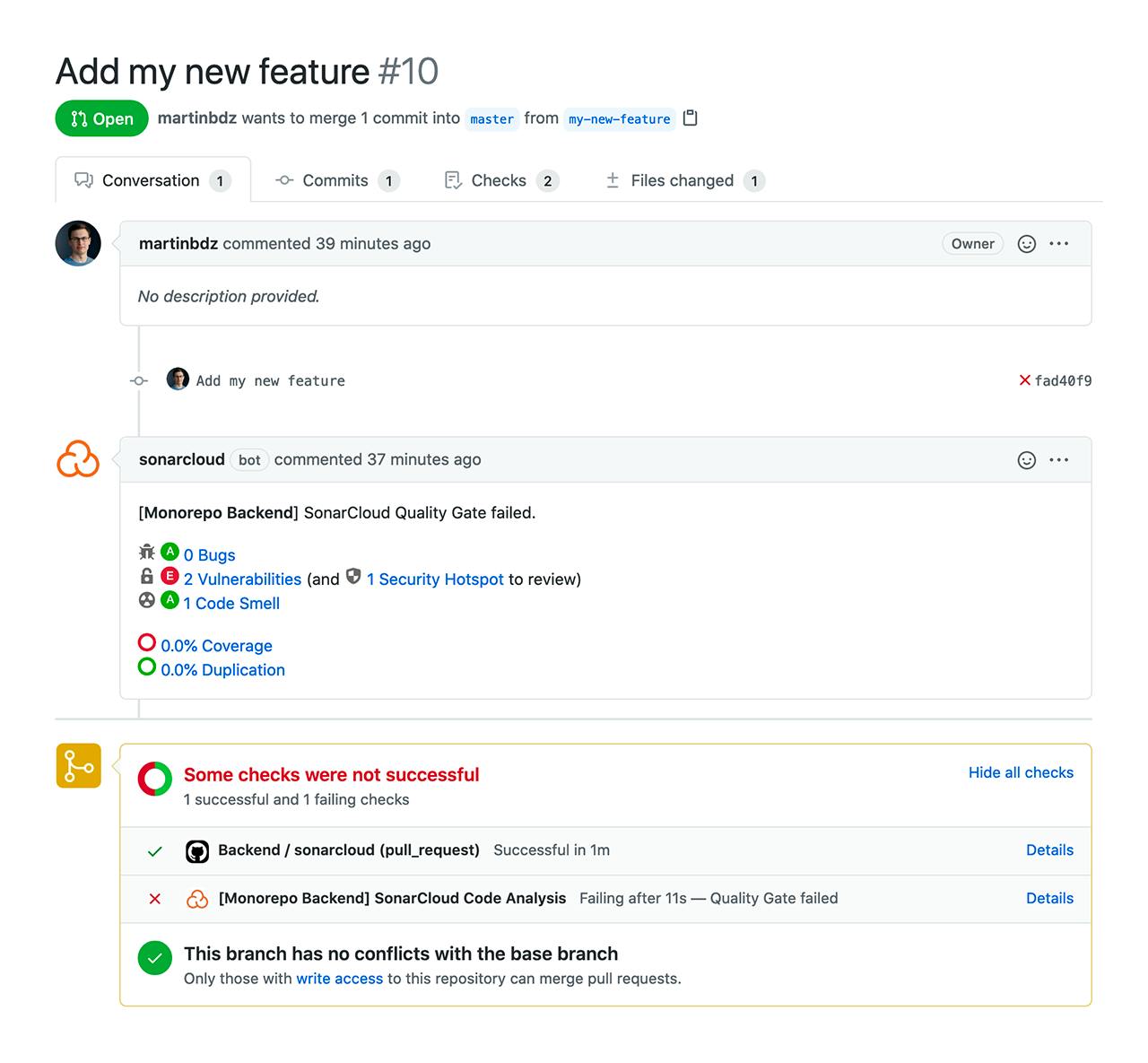 Community inputs bring more to the product!
Why are we sharing such a story with you today? Because we strongly believe that inputs from the community, from you, bring something special to the products! At SonarSource, we are a product-first company. This means that our principal objective is to build a great product. To do so, we challenge our product vision every day, and at the same time, we try to go deeper into the heart of the code quality and security market. But that on its own isn't enough. Above all, we're convinced that the road to successful products lies through listening to community inputs! Today more than ever, we're bringing your voice to SonarCloud.
We'd like to encourage you to start sharing your feedback if you're not already doing so! While we bring more features to our products every day, we're also introducing more ways for our users to share their input: on the forum, in our productivity tools, and inside SonarCloud directly (coming soon). There is no reason not to share your feedback with us. It gives us a chance to make more informed decisions, and thus build well-suited products for you. And it gives you a chance to suggest ideas and take ownership of the code quality and security product you use every day.
Keeping everything simple and transparent!
Ready to contribute to SonarCloud? We suggest you do it here:
Community forum (https://community.sonarsource.com): For general discussions, or questions about the product. If something doesn't work for you or is unclear, please sign in and ask your question. It will be answered shortly by either us or another member of the forum.
SCCOMM (https://jira.sonarsource.com/projects/SCCOMM): References all the bugs identified in SonarCloud and gives clear visibility on the resolution. You can watch the issues, vote, and follow the status update.
Features Requests (https://jira.sonarsource.com/projects/FR): Lists new features ideas coming from the community. You can vote for the ones you like and want to support.
More ways to contribute are coming (e.g. giving feedback on False Positive from inside the product). We'll announce them soon, stay tuned!
See you in the community forum!
We want to thank you for your participation in the community forum! If you don't have an account already, we suggest you sign up today and start contributing. We listen to your voice and value your feedback at every moment! This is how we continue to improve the best tool for writing clean, safe code!