Discover SonarCloud's new project experience. Join the beta today!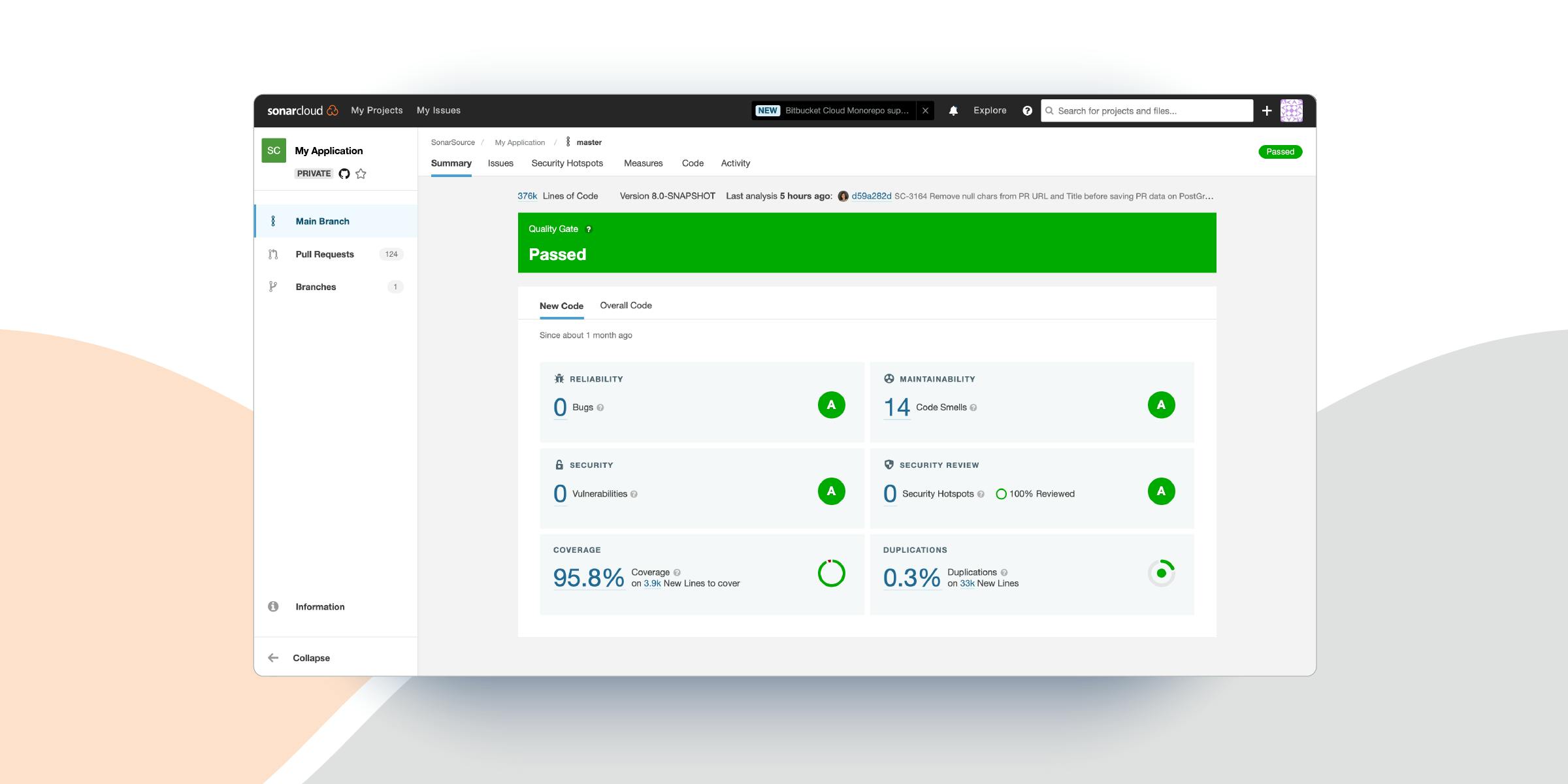 SonarCloud's interface has received a nice refresh! We're happy to invite you to join our beta program, which is just three clicks away! It's open to all existing users, without prior registration, and is easily activated.
A wind of change
SonarCloud was born a few years ago, and forked from its older brother SonarQube with the intention to bring Code Quality and Code Security to cloud-based workflows. Since day one, we have made it our primary mission to make onboarding new projects easy for our users, directly from your cloud code repository platform whether it's GitHub, GitLab, Bitbucket, or Azure DevOps Services.
With this refresh, we're going one step further. Our main objective is to significantly reduce time-to-value for our users. In other words, we're trying to help you onboard your projects faster and maximize the time invested in Code Quality and Code Security. We're trying to kill the noise so that you can focus on what matters most.
With this blog, I'm going to introduce what this beta is all about, and what you can expect once you activate it. I'll cover:
New project navigation inspired by code repository platforms
New summary interface for branches and pull requests
Prominent Quality Gate display
No more default new code configuration (previously released)
New Code Period setup made easy (previously released)
Pull requests and branches browsing and search
New feedback integration
Dive into a new project experience
Designing a whole new project experience is what this first release is all about! This is the first in a series of changes we are making to the SonarCloud product experience. For now, let's have a closer look at this beta!
Easier project navigation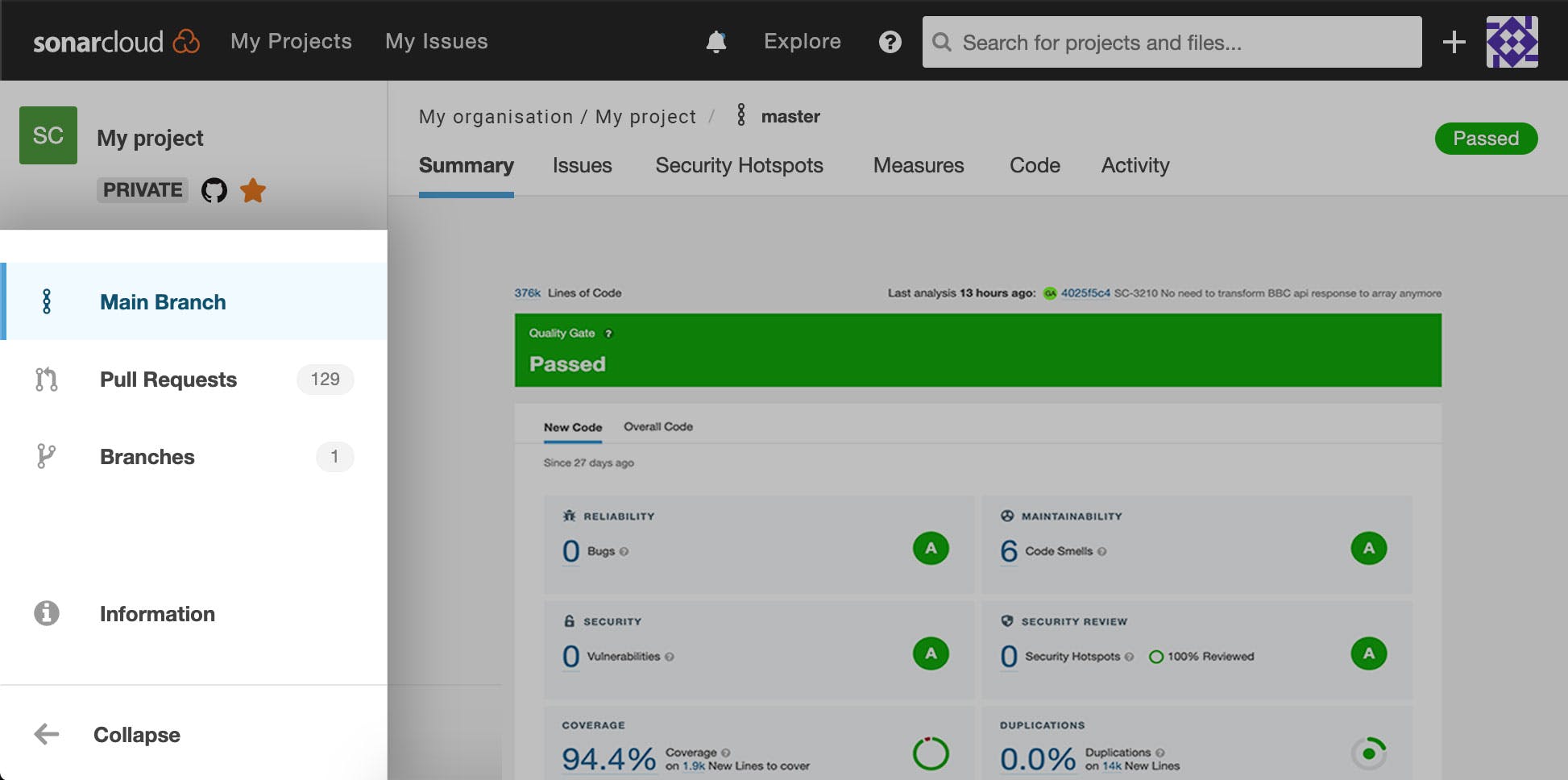 Is the main branch always what you want to look at? Absolutely not!  Pull requests and feature branches are also at the heart of a proper Code Quality and Code Security strategy. With the existing interface, we feel like it's not always easy to navigate inside your project and look at specific pull requests. That's why the beta introduces a brand new project navigation menu in the form of a sidebar on the left of your screen. It will allow you to:
Check the main branch before you release
Browse your pull requests and check Code Quality and Code security before you merge
Browse other branches in the development of new features
Look at the project information (badges, notifications, Quality Gate, Quality Profile, and more)
This menu can be collapsed if needed by clicking on the arrow at the bottom.
Note: When you open a project you will arrive directly at the main branch view, which is still the default homepage for a project.
New summary interface for branches and pull requests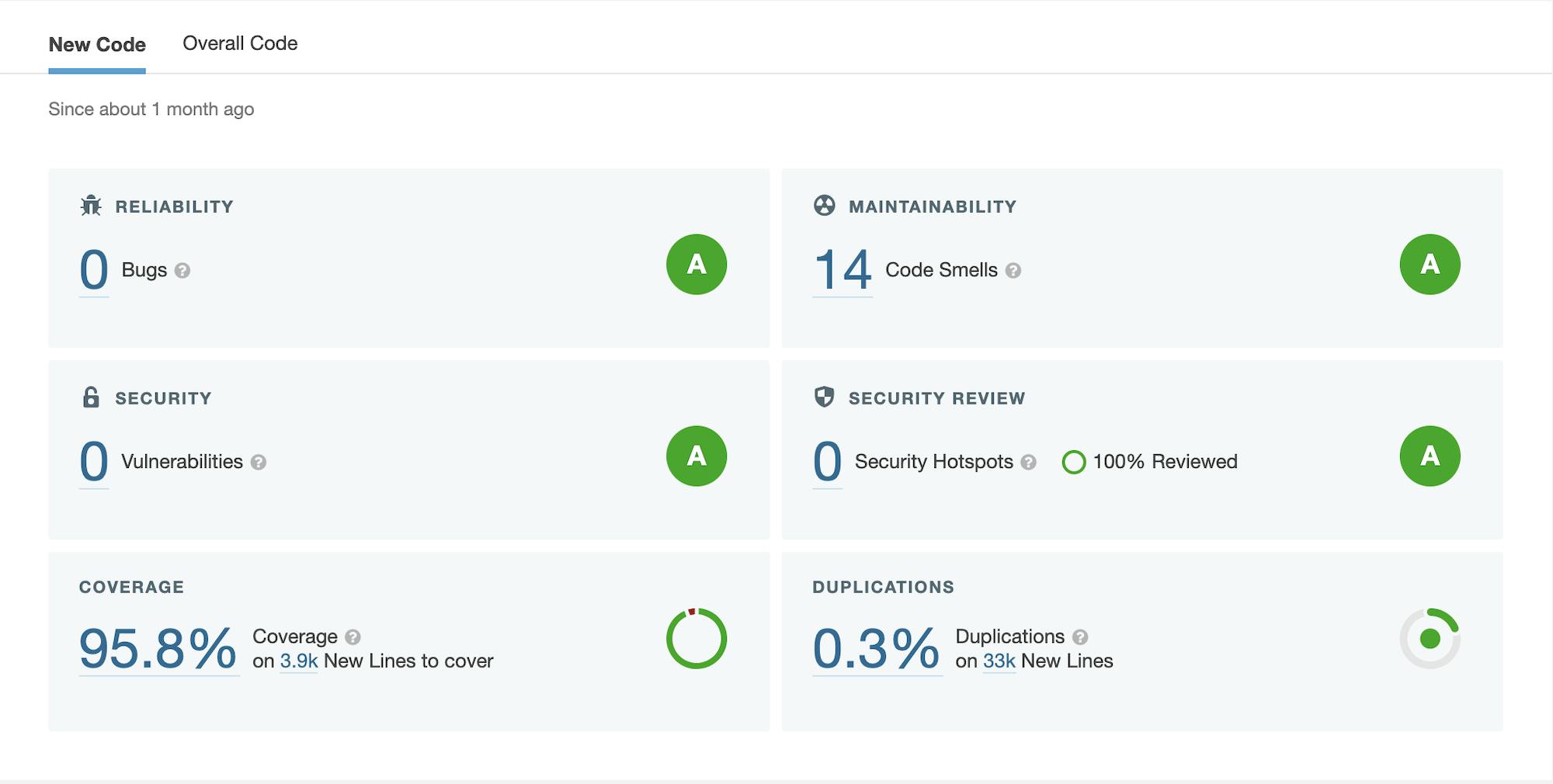 We made it a point to simplify the interface. We want SonarCloud to be super clear at all times for every user - beginner or advanced. Looking at a page, we want you to know what actions need to be taken to improve code Quality and Code Security and get your code compliant with your requirements.
The analysis summary for branches and pull requests is the central piece, especially when you have a failed Quality Gate, right?! We want you to be able to understand where you stand at a glance. That's why we revamped the whole summary interface. We think that it'll bring more clarity to you. There are six important metrics for Code Quality and Code Security in SonarCloud, and now every one of them is in the right place on the screen. It's visual, and it's actionable!
You might have noticed that we put the focus on the New Code. You can still view the summary for the 'Overall Code' clicking on the second tab. But the new code is really where you can have the most impact! That's why we felt like this was the most important information for you to see. This is what the Clean as you Code methodology is all about: delivering clean and safe code today that impacts the legacy code progressively.
Note 1: Pull requests and short-lived branches are de-facto considered as New Code. Therefore, they don't include an 'Overall Code' tab.
Note 2: For pull requests and short-lived branches, you now have an after-merge estimation for Coverage and Duplications.
Prominent Quality Gate display

Am I ready to merge? This is an important question in the development workflow, where the Quality Gate can help you every day. It's a key feature for SonarCloud and brings crucial information to you and your team. To be honest, we didn't feel like the place it had in our previous UI was quite the place it really deserved! It was easy to miss. With the new UI, I doubt you'll miss it in the future! Whether it's passed or failed, you'll know instantly by looking at your branch or pull request. I guarantee it.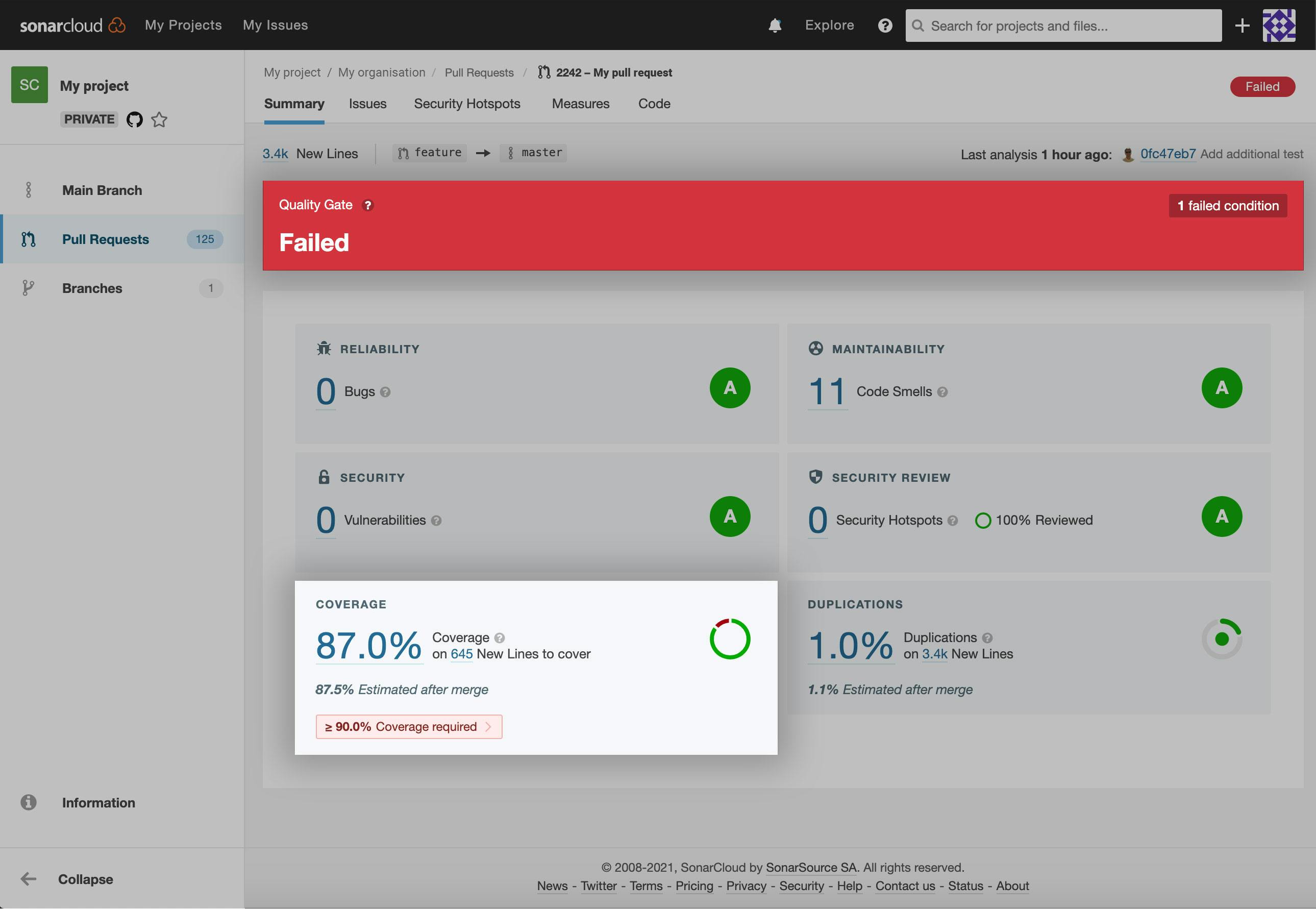 Not only is the Quality Gate now prominent in your summary, but when it's failing, you will be able to understand why in seconds:
You know instantly how many conditions have failed
You know how many have failed for New Code and for Overall Code
You get a clear message explaining why a specific metric failed directly in its section
No more default new code configuration (previously released)

With this beta, we're dropping the default configuration for the new code period! Before, all new projects would be assigned a default "30 days sliding-window" new code period. From now on, here is how it'll work instead:
The new code configuration is empty by default
The Quality Gate is not computed on the first analysis
The Quality Gate is still computed for pull requests and covers only the PR code
Once the New Code is configured, the Quality Gate will be displayed on the Summary
Note 1: You won't be affected by this change for existing projects.
Note 2: The default Quality Gate is applied to pull requests and short-lived branches.
New code period setup directly from the Quality Gate (previously released)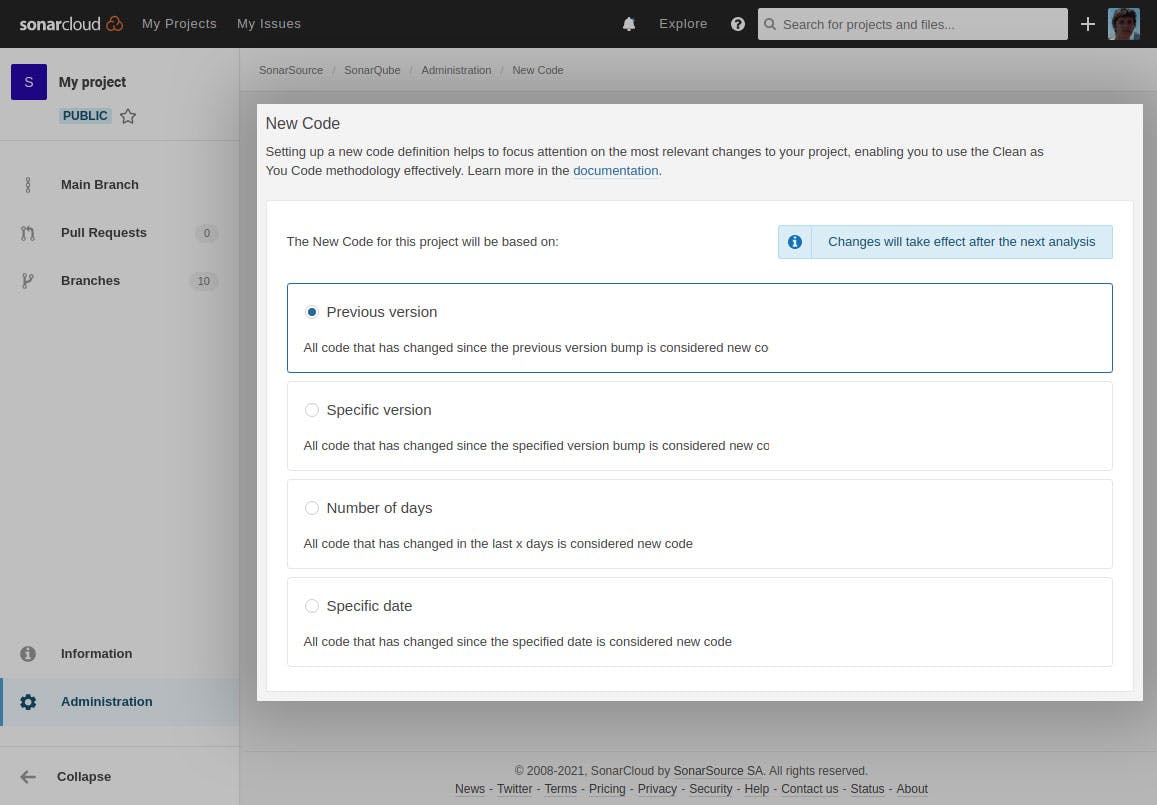 We're making it easier for project administrators to configure their new code period, directly from the Quality Gate banner. You can choose among four options:
Last version: all code since the last version is New Code.
Specific version: all code since this version is New Code
Number of days: all code within the number of days entered is New Code. This was previously the default New Code configuration, with a 30 days sliding window.
Specific date: all code since this date is New Code.
Pull requests and branches browsing and search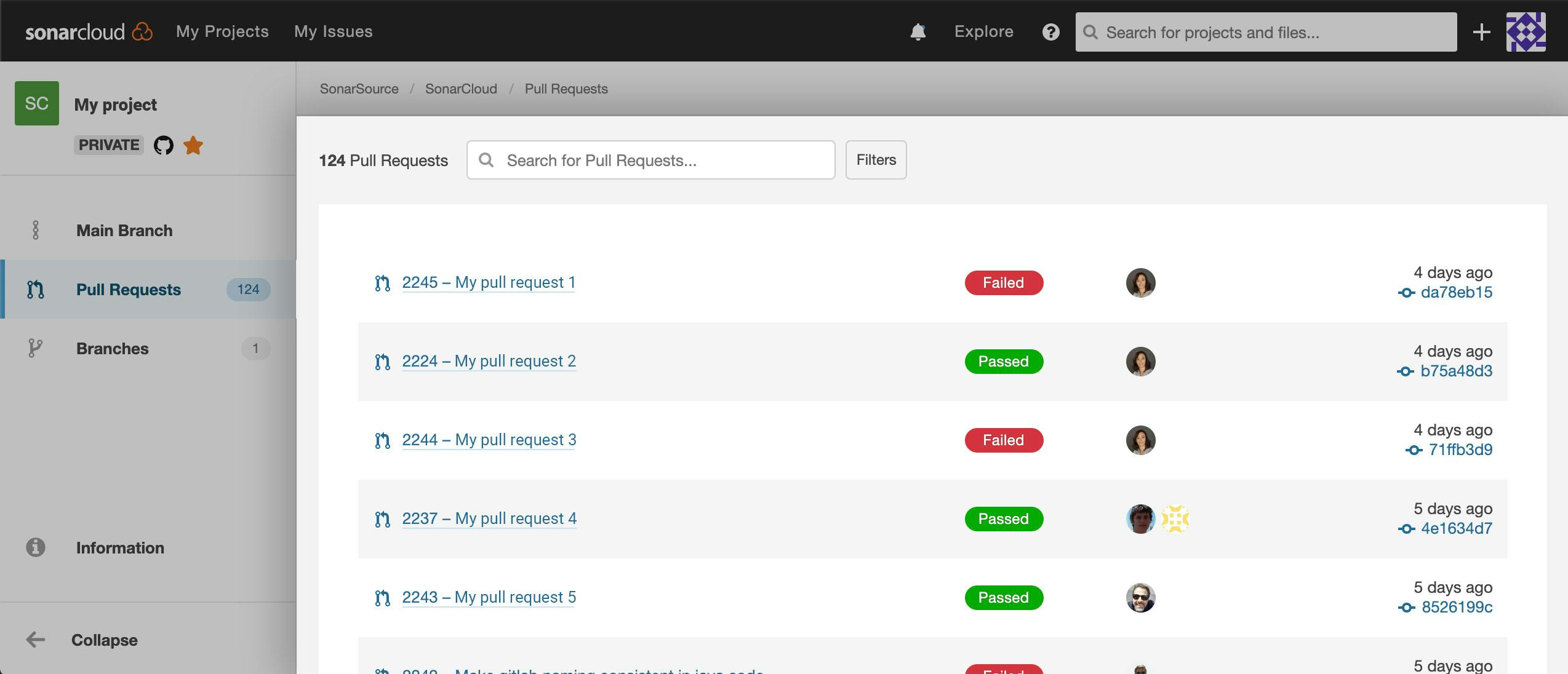 How many pull requests does your project count? For projects with a lot of PRs, it can be painful to have to scroll through the entire list to finally get your hands on the one you're searching for. With the new UI, you now have a dedicated page to browse and search pull requests. You can either search by text or simply apply a filter ('My Code' for PR you contributed to or 'Failed Quality Gate') to the list of pull requests.
Also, looking at the list, you'll be able to quickly see for each pull request:
Contributors
Quality Gate status
Last analysis date
Commit SHA-1
Controls to delete a PR if you have admin rights
Activate the new beta interface with only 3 clicks
No registration, no beta users list! You're the one to decide if you want to onboard! This beta UX is open to every single user. If you're an existing SonarCloud user, upon signing in, you will receive a notification inviting you to activate the beta interface. Simply follow the next steps and you're in.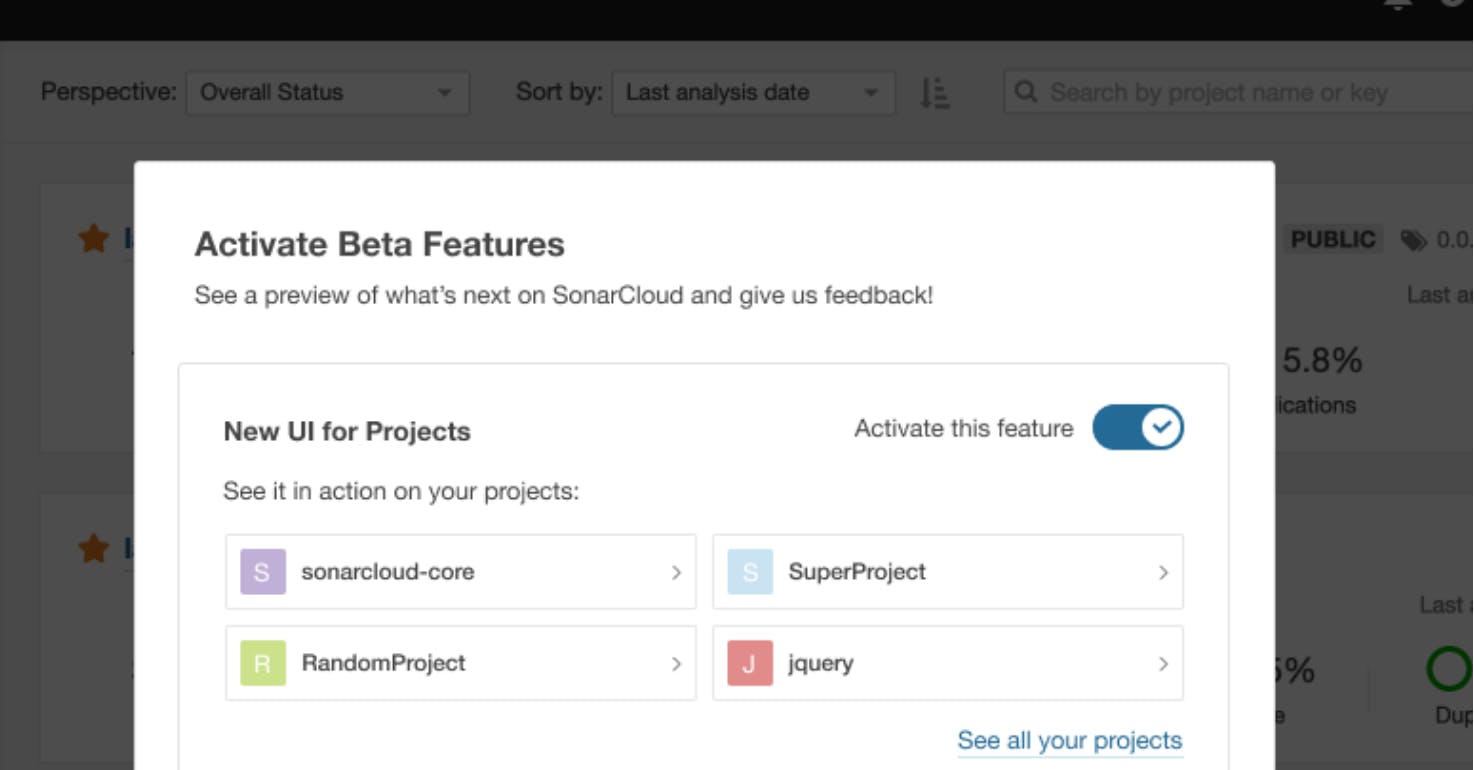 If you want to try it, it's super simple:
Click on your profile picture at the top-right,
Then click on 'Activate beta features' and a pop-up will appear.
Click on the 'Activate this feature' toggle switch and you'll see SonarCloud change skin instantly!
Give it a try and share feedback
Did this blog make you curious enough? Are you ready to try this new experience and join the beta? If so, make sure you send us feedback! We'd be keen to hear your feelings about this new experience.
Plus, we're making it easy for you! As part of this release, we've added a built-in feedback tool to SonarCloud so you can share your feedback without even leaving the product. All you have to do is to click on the small 'Feedback' banner on the right of your screen. A pop-up will show up. Fill in the form, attach a screenshot if you're referring to something, in particular, click 'send feedback', and you're done! We thank you in advance for every feedback you share that will help us build the best tool for your needs.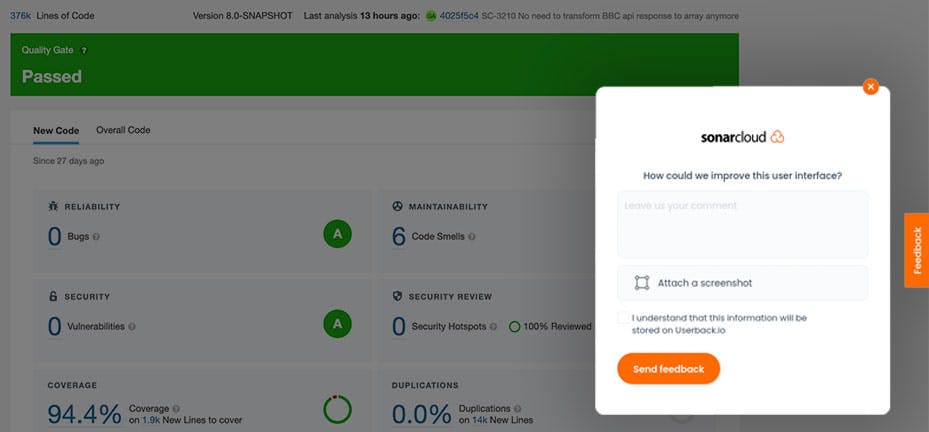 Enjoy your journey with the new project experience! We hope it'll bring great value to you and your team and help you improve your Code Quality and Code Security quicker.