Celebrating SonarCloud 1 year anniversary!
In the last 10 years, SonarSource has been committed to Continuous Code Quality, i.e. to providing teams with the best products to analyze their code at every stage of the development process. Over the past 12 months, we have pushed that commitment into the cloud with SonarCloud.
From Nemo... to SonarCloud
Those who have been using SonarQube (previously Sonar) since the very beginning probably remember that we had set up in 2008 a live instance of SonarQube on the Internet. It was 10 years ago - almost to the day. It was called "Nemo", and we were using it to analyze well-known open source projects with the intent of showing the power of the product. For each project, we ran one analysis per day, and everyone could see the results on Nemo.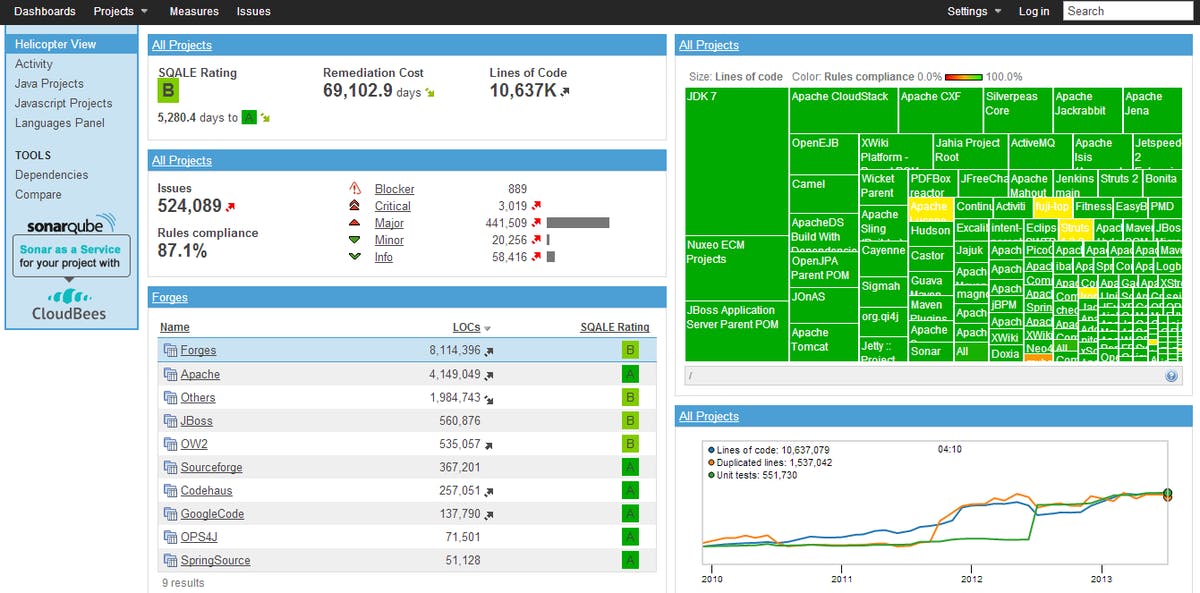 In June 2016, we decided to go a step further and open Nemo to the developers of open source projects and let them manage their own analysis. Anyone with a GitHub account could sign up and start analysing her own OSS project as much as she wanted / needed, without asking us to do anything: SonarQube.com was born!
One year later, in June 2017, after a lot of work to introduce the concept of organizations, we added the ability to have private projects, and relaunched the service as SonarCloud. Since then, we kept adding features: Bitbucket Cloud and VSTS authentication, branch and PR analysis, project badges, new languages like T-SQL and GO.
The latest and greatest features, always
SonarCloud can be seen as a SonarQube as a service, where SonarSource operates the service. You get a fully operational version of SonarQube, no need to worry about the installation or updates of the instance, no hardware headaches: the service is hosted on Amazon AWS in Frankfurt, Germany, and we manage everything for the service to run flawlessly. You can just focus on writing code and making sure it builds and works, SonarCloud will provide you with the insights about your code quality with a focus on the code added and changed.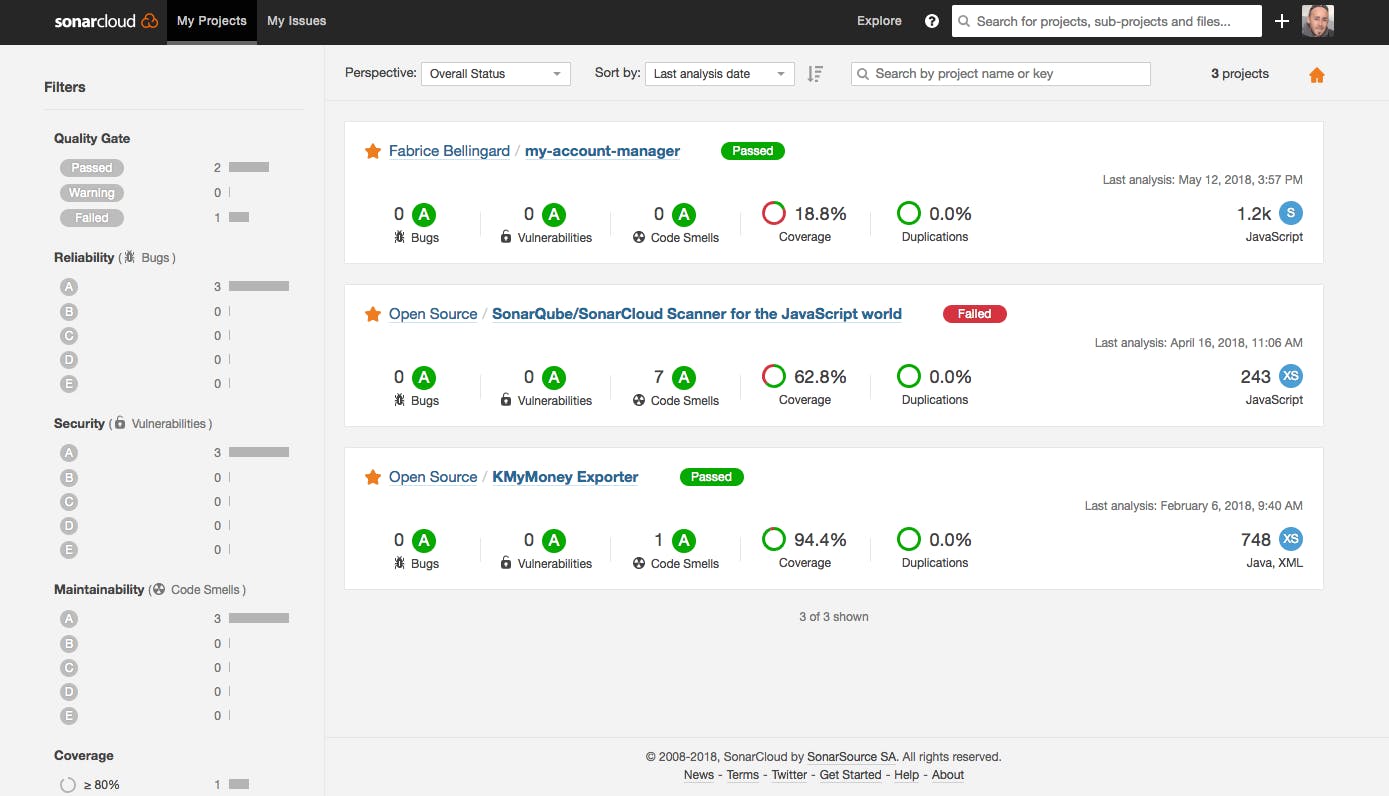 Unlike for Nemo - on which only official versions of SonarQube were deployed - we now do continuous deployment: SonarCloud is always up-to-date with the latest and greatest features we develop. Another difference from Nemo is that SonarCloud has become a product on its own: some of its features are not available in SonarQube (such as organizations), and vice-versa. And this is just the beginning. We want SonarCloud to fly on its own and to push exciting and innovative new features that will exist only in the cloud!
Free for open-source projects, always!
Because open source is in our DNA, SonarCloud is free for all open source projects - whatever language among the 17 available. If your code is hosted on GitHub and built with Travis, this should be a no brainer: follow the Get Started guide and have your project and its pull requests analysed in a couple of minutes!

If you want SonarCloud to analyze your private projects, you will need to upgrade your organization to a paid plan, based on the number of private lines of code. Handy when you want to start small.
Public or private, you get exactly the same set of features, which is the equivalent of the SonarQube Developer Edition. This means project analysis with quality gate and history, support for all the major languages (17 as of today) with more than 3,000 rules, analysis of pull requests and branches, SonarLint notifications and full DevOps integration!
Massive adoption already
SonarCloud is only 1 year old and already benefits from a large adoption:
More than 19k projects, containing about 320 million lines of code and 13 million issues - not counting those fixed along the way (about 7 million!)
More than 34k registered users collaborating on those projects
Already more than 350 customers who analyze 31 million lines of private code in total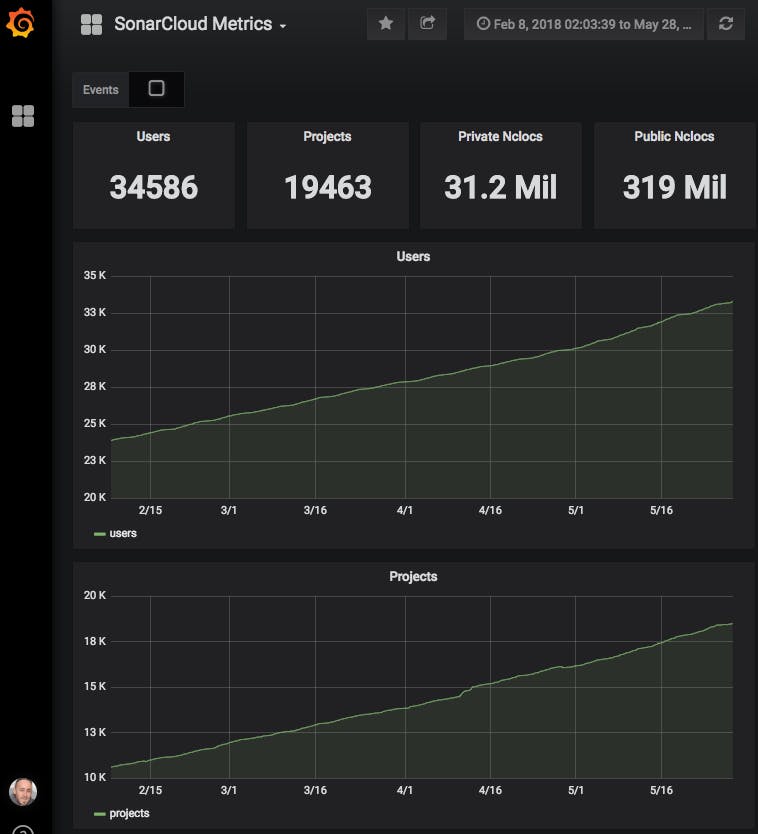 These numbers are growing fast!
What will keep us busy for the rest of the year?
We will continue to work on integrating with GitHub, Bitbucket Cloud and VSTS, for example to onboard existing teams on the service. We also plan to integrate with GitLab with the same set of features of other integrations.
As we move forward, we also want to provide an easier way to analyze a repository: in one click, you should be able to get a first analysis of your code - no need to configure a CI engine for that purpose.
As you see, many great things are coming on SonarCloud and we are extremely excited to build them for you. Are you ready?